I have been addicted to artificial nails for a LONG time... well, I have recently taken to doing my own nails at home and I have found the BEST product!
I know "press on" nails are totally something girls do in elementary school, but I promise they look great - this is the product I used...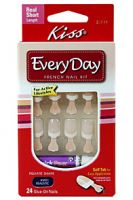 And to top it off, the entire box was only $5.00 at Target - which basically means I can get a new box and have a fresh set, placed on my nails once a week, each month, for less than one salon appointment costs. I tell ya, it is fabulous!